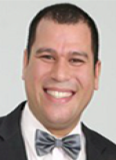 Prof. El-Sayed Salama
School of Public Health, Lanzhou University


Speech Title:
Wastes Rich in Biocomponents (WRBs) for Advanced Biofuel Generation
Research Area:
Conversion of microalgal, lignocellulosic, and seaweeds biomass to biofuels

Advanced anaerobic digestion and serial fermentation

Removal of microplastics, emerging contaminants, and heavy metals

Studying the microbial nexus and symbiosis in anaerobic digestion via multi-omics
Research Experience:
Dr. El-Sayed Salama earned both his MSc and PhD degrees in "Earth Resources and Environmental Engineering" from Hanyang University (HYU), South Korea. He accomplished an experience of ~3-years as a Post-Doctoral Researcher and Assistant Professor under the BK21 plus program funded by the Korean government in HYU. Currently, Dr. Salamais working as a Professor under the "High-Level Foreign Talents" Program, at the Department of Occupational & Environmental Health, School of Public Health, Lanzhou University (LZU), China. Recently, he is also appointed as "Distinguished Expert of Science and Technology in the Ecological Industry" of Gansu Province, China. Dr. Salama is head of Green Environmental and Energy Laboratory (GEEL) in LZU, leading a research group of 12 (PhD & MS) students, and is PI of 2-national and international research projects.
Dr. Salama has potential contributions to the scientific society through 60-SCI papers in internationally reputed journals with an average impact factor (IF) of 6.3. Dr. Salama published his research work in high-level journals such as "Progress in Energy and Combustion Science (IF=30.711, SCI, Q1)", "Trends in Plant Science (IF=14.416, SCI, Q1)", "Trends in Microbiology (IF=13.546, SCI, Q1)", and "Renewable and Sustainable Energy Reviews (IF=12.110, SCI, Q1)". His work is cited more than 1500 times in the peer-review press, with a total IF of more than 370 (H-index of 21). He registered 5-Korean patents and 1-USA patent. He was awarded 2-times from "Korean Society of Environmental Engineering" and "Korean Society for New and Renewable Energy". Based on "WOS", two of his publications were recognized as High Cited Papers (HCP).
Dr. Salama has delivered over 40 invited talks to various national and international forums such as the American Chemical Society (ACS), International Conference on Alternative Fuels and Energy (ICAFE), International Conference on Environment and Natural Science (ICENS), International Conference on Contaminated Land, Ecological Assessment and Remediation (CLEAR), and International Conference on Biological, Chemical and Environmental Sciences (ICBCES). He is appointed as "International Technical Committee Member" for International Conference on "Environmental Ecology, Animal Physiology, and Health Science" (EEAPHS).
Dr. Salama is currently serving as Chief-in-Editor of "BioEnvironmental Science and Engineering (GS Indexed)" and Editor of "Geosystem Engineering (Taylor & Francis)", Editorial board member of "World Journal of Microbiology and Biotechnology (Springer)", and "Annals of Bioremediation and Biodegradation" and the (guest) Editor members of "Frontiers in Microbiology (Frontiers)", "Energies (MDPI)", Frontiers in Marine Science (Frontiers).
Personal Web Sites: